Edit: a pic of how it looks today.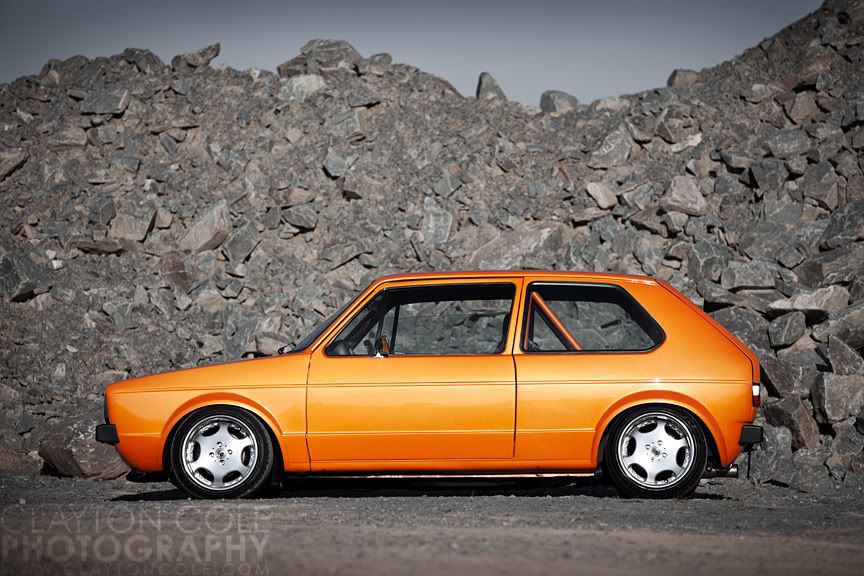 I'll start off with a little history of the car from what I know. The car is an 81 Volkswagen Rabbit 2 door. I'm not sure exactly how many owners the car has had but I do know the person I bought the car from had it painted last year and was stored this past winter. The orginal color was baby blue. He had only owned it for 2 years and the previous owner to him had it in a barn for 8 years before that. So needless to say the car is in good shape. The car ran great except the exhaust was broke off at the manifold. It came with new FK suspension, and the seats are like nearly mint. The only downside to this car is that the transmission went in it a couple of years ago and the previous owner swapped an automatic into it.
The plans for the car are to do a 16V swap with a turbo to follow this winter. My goal is 250 whp. The car is getting completely gutted and a total color change. Plans are to have all new interior, including dash, bumpers and wheels.
Here is the link to all the photos' I've taken so far. I will post some new pictures in here as we progress.
http://www.customobsessions.com/modules.php?name=gallery2&g2_itemId=10240
Here are some pics of how the car looked when I bought it.
Those pics were about a month ago now. So here's where we stand as of yesterday.
We managed to take the motor out Dartmouth style out the top.
The entire dash is now out and the bumpers are off.
And here how she stood at the end of the night.
In regards to the motor… we have the new 16V completely stripped down ready to be rebuilt. I just got all the new parts to completely rebuild the top and bottom end of the more.
Here's what's currently on the way in regards to new parts.
FK Badgless Grill
Hood
Hood Release
Euro Rad Support
Euro Bumpers
Hopefully at Waterfest I'll be able to pick up a few more things that are on the list.